Are you looking for an authentic bread cooking class in Puglia? Welcome to the Terrachevive.com!
If you are looking for a tour with tasting or a cooking class to attend during your stay in Puglia, you are in the right place!
Terrachevive.com is specialised in offering culinary experiences to tourists who would like to discover and taste the best Apulian food and wine products. Among these, a place of honour is given to the delicious bread.
Our cooking classes will take you in a timeless world where you can find sourdough, flours produced with ancient grains, expert Apulian grandmothers, fragrances from bread baked in a wood-burning oven.
Thanks to our food and wine experiences you will have the opportunity to taste the flavours of Puglia. Where? In exclusive locations such as the famous trulli, charming farmhouses and old bakeries.
Bread and humanity: a journey more than 10.000 years long
Bread is a precious food that has been a part of human lives during countless historical cycles. It is in fact between the Palaeolithic and Neolithic periods that have evidence of the first cultivations of cereals. Over the course of the following millennia, bread has been produced using flours (wheat, rye and spelt), resulting from the cultivation of cereals and whose processes are still unknown.
From the first leavening of the Egyptians to the ovens of the ancient Romans, this great food has passes on to us and has remained almost unchanged.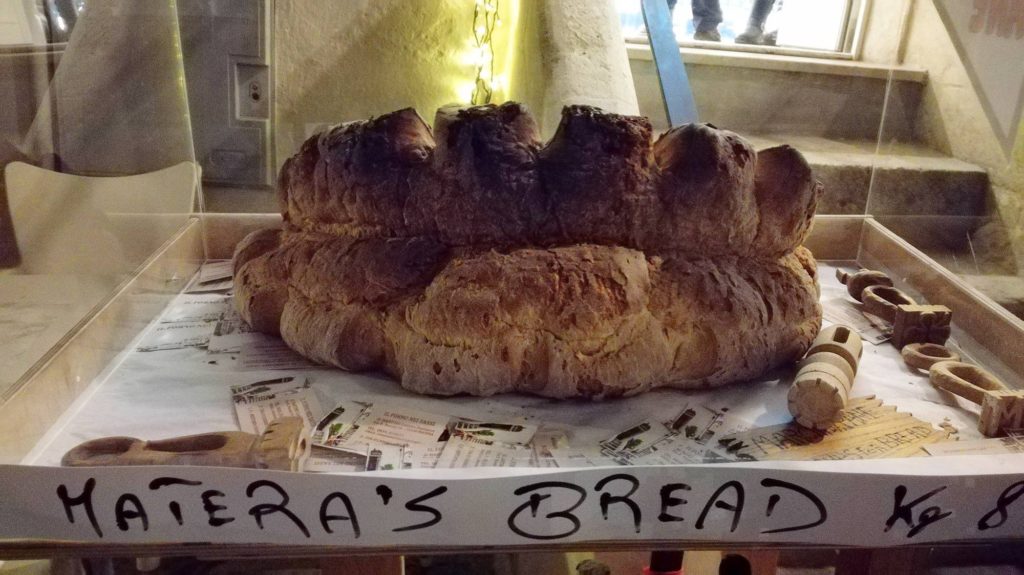 Bread in Puglia
The variety of the Apulian food and wine heritage is well known and appreciated all over the world. The high quality of its products combined with the safeguard of its ancient rural traditions have recently been described in an article published by National Geographic.
In Puglia in fact bread is made following the ancient rural tradition, using genuine ingredients and nothing more: flour, water, yeast and salt. The bread made by the many local bakeries, some of which date back to 1500, is still baked in wood-burning ovens. Still a lot of families make bread at home every Sunday so that it can be served during the lunch with the whole family.
Apulian culinary tradition teaches that only one type of bread exists: the one baked in a wood-burning oven.
Our traditional cooking classes to make bread at home
We know the food and wine quality of our region very well and we are very pleased to share it with you. If you are spending your holidays in Puglia, or if you are planning to, you can choose among many bread cooking classes with tasting sessions:
Cooking class to learn how to make apulian bread: This experience will be hosted by an authentic Apulian family, in a location situated in the very heart of Valle d'Itria. The making class will be held by a Grandmother with a deep culinary experience. During the cooking classes you will learn about the correct doses and ingredients, the right way to prepare and roll out bread dough and, finally, the techniques used to create different types of bread shapes.

How to make bread class

Bread, taralli and friselle making course in an old bakery: A master baker will show you the traditional recipes to make Apulian bakery products in a charming location: the bake lab of an old bakery with ancient wood fired oven.
You will share the same place with those who, for generations, prepare delicious bakery products, which are highly appreciated from locals.
The experience will end with a tasting of several bakery products like our appetizing Apulian focaccia.
Who, then, could more readily tell you the secrets to make our Apulian delicacies? Once you will learn, it will be so easy to prepare them so that you could do it at home.
We recommend these experiences for families and children, an educational opportunity to learn while having fun!
How to book our bread cooking classes
Would you like to book a bread making class to learn how delicious Apulian bread is preapared? Click on the experience you would like to enjoy by choosing it among those listed in the previous section and fill out the contact form.
Alternatively, you can send us an email to the following address specifying which wine tour you would like to attend:[email protected].
That's easy, isn't it? Contact us now!