Antica Salumeria del Corso: excellent food and wine in the heart of Puglia
Sight is the first sense with which we generally perceive the world around us. And it was the view that was immediately inebriated by the food and wine products offered by the Antica Salumeria del Corso of Alberobello: focacce, cured meats, dairy products, sottoli, wines, to name just a few. Just cross its threshold to remain enraptured: a selection of excellence of the best food and wine products that the land of Puglia offers. After the pleasures of the sight, the ecstasy of taste thanks to a tasting route that has delighted our palate and that we absolutely want to recommend.
Expert hands will guide you on this tasting, the same ones that for over twenty years have been researching niche productions to offer them to their customers in an enchanting setting like Alberobello. Valerio Mizzi, owner of the Antica Salumeria del Corso, spent most of his life between cured meats and cheeses managing to adapt his activity to economic changes. Here one sees and feels the Quality in the research and the offer of the best local and national production. This food and wine pearl of Puglia hás made the quality its strong point to be awarded with the famous Michelin star and to be second in the "things to do" in Alberobello on Tripadvisor.
A few steps from the famous trulli of Alberobello, which for their uniqueness and beauty have been named Unesco heritage (read our article on the Unesco sites of Puglia), we did a casting tour that allowed us to eat (and drink) the best typical products of Puglia.
To start a good tasting: top the glasses of Primitivo di Manduria!
We started the tasting by choosing the wine among the many labels present in Valerio's varied selection. We opted for a Primitivo di Manduria Dop produced by the Calitro vineyards. A red wine that has been very well paired with dishes of meats and cheeses offered by the Antica Salumeria del Corso.
The first dish we ate was as follows:
mother-in-law's tongues (similar to Sardinian carasau bread) on which were placed succulent mozzarella morsels and cherry tomatoes slightly dried in oil;
burrate produced by Martina Franca Masseria La Stalla.
A first course that has immediately won us over and that has increased the wait for the next one, announced shortly after by a delicious smell. In fact, on a wooden board, freshly sliced, it is presented with its unmistakable fragrance a product of excellence: a Sauris raw ham seasoned for 30 months. We first tasted it alone and then accompanied with taralli cooked in a wood oven, another of the typical products of Puglia that goes very well with any kind of dish or drink.
Together with the ham, a chopping board made of the best local cured meats has come to our table:
the famous capocollo of Martina Franca (read our article if you are interested in visiting and tasting it in the place where it is produced Puglia's best salami);
a salami produced with natural casing;
a handmade porchetta of Locorotondo.
We have accompanied these products with the excellent bread of Castellana Grotte and della focaccia with tomato, a typical Bari recipe, a real goodness!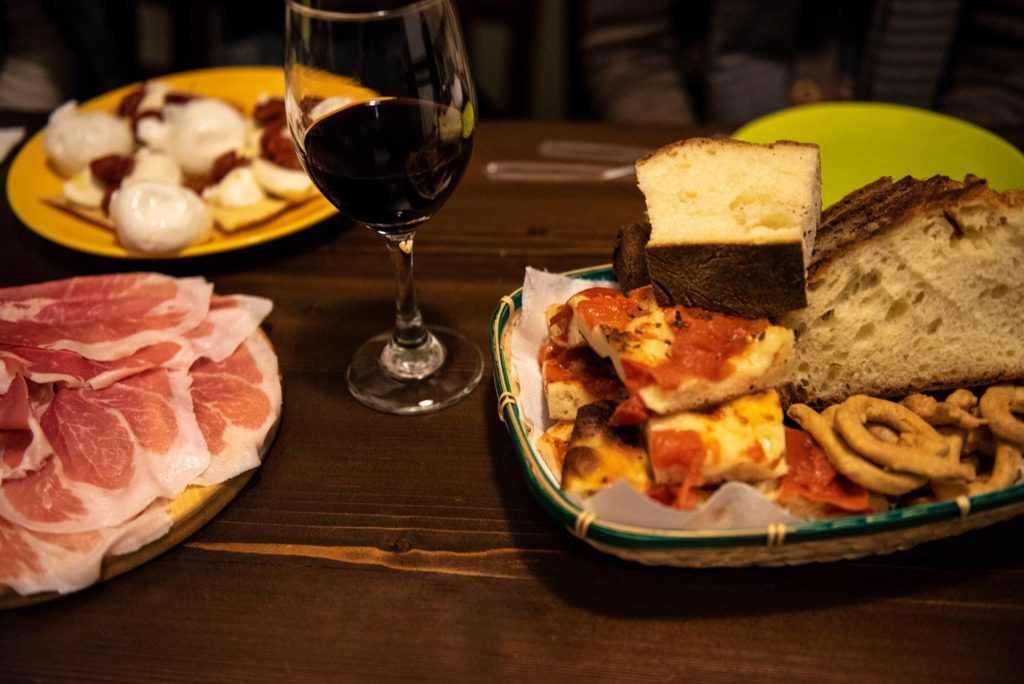 After the excellent cold cuts the time hás come for another specialty of Puglia or cheeses:
caciocavallo;
stracchinato;
pecorino.
We accompanied them with a delicate organic pear jam . A goodness that Terra che vive suggests you to taste when you come to Puglia. Finally, to conclude the path, an excellent dish of organic products in oil:
paprika peppers (similar to a cherry tomato) filled with tuna;
mushrooms cardoncelli;
artichokes.
Valerio, as an excellent host, has wisely guided us in a tasting process that involved only some of the delicacies on the shelves of his Antica Salumeria del Corso. So we have a good reason to come back and to taste the best meats and cheeses of Puglia.
Puglia and the many reasons why choose it
Going away and walking through the alleys of the historic center of Alberobello, dotes with pinnacles of its trulli, we all made the same reflection: Puglia is a land that envolves and distorts the senses. It has suggestive places to see, lots of food and wine products to taste, art and culture to learn, activities in contact with nature to do. It is the ideal place for your holidays….
Book the experience now Tasting of typical products in an old Alberobello delicatessen !
Our beloved land of Puglia, a land that lives!
Come and experience it too, we are waiting for you!