In Valle d'Itria, between Martina Franca, Locorotondo and Cisternino, is produced one of the most tasty cured meats in Italy.
I'm from Puglia, a lover of my land and our kitchen, so I admit it, I'm certainly partisan. When it comes to capocollo, just imaging it, my mouth is already watering. But just because I know it so well I guarantee you that it will come to you as well after having tasted it the first time!
Capocollo is certainly the most famous Puglia salami in Italy. It is a totally handmade product and produced in limited quantities which, unfortunately, makes it difficult to find in large supermarkets. But this craftsmanship and this limitation of its production make it a niche product of great quality.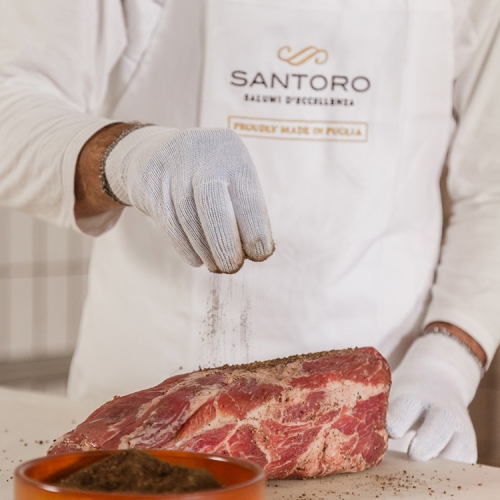 The capocollo is made with the muscles located between the "head and neck" of the pork.
The ingredients to make it so special are: pepper, sea salt, aromatic herbs of the area such as thyme, bay leaf and myrtle, cooked wine of Verdeca and Bianco di Alessano. But it lacks a fundamental ingredient: just that part of the pig raised in the woods of our Murgia rich in fragments.
The food and the place where the pork grows are essential to produce an authentic Capocollo di Martina Franca
.
Just like the famous 100% Iberico Bellota Pata negra ham. Each food and wine typicality has its natural context in which it develops and adapts, giving life to unique products that the whole world knows and appreciates.
In fact, the pigs of the área of ​​Valle d'Itria is raised freely in our woods and feeds with the acorns of the "Fragno or Quercus Trojana".
This mix of ingredients, climatic conditions and craftsmanship make the Capocollo di Martina Franca unique.
Now you just need to know where it's done and you know almost everything about the Capocollo di Martina Franca
The procedure is simple to write but a little more laborious to put into practice:
phase 1: the capocollo is shaped, salted and flavored for about 15 days. After it is washed and left to marinate for a few hours in the cooked wine and again flavored with our local wild herbs;
phase 2: it is that of the sack in which the capocollo is inserted in a casing and subsequently wrapped in a natural cloth to be hung for drying in well-ventilated stone rooms for about 10-15 days;
phase 3: after bagging and drying, it is smoked. Almond and fragrance fumes are placed in the rooms;
phase 4: it is seasoning. Capocolli are left to mature for about 3 months in the typical autumn temperature of Valle d'Itria of about 13-15 degrees.
The capocollo of Martina Franca is ready: if you want to taste it in person, the best thing to do is to come to Martina Franca.
You can try it here, surrounded by the beauty of Valle d'Itria, visiting one of the best delicatessen or tasting it in one of the best restaurants in the area. You will be offered on a nice platter of local meats and cheeses paired with delicious caciocavallo or a fresh burratina. Then a nice intense red wine like the primitivo, the susumaniello or the negroamaro that are great with this salami.
Ah, how many delicious things our land offers!
Our beloved land of Puglia, land that lives!
Come and experience it too, we are waiting for you!
Photo: Salumificio Santoro