Which are the best wines of Puglia? and the best Apulian wine producers? In this article we will try to give an answer. Puglia is one of the regions with the greatest wine production in Italy and at the same time, it also boasts numerous DOC (controlled designation of origin) wines. A great goal, if you think that until a few decades ago, no one had in mind which were the best wines of Puglia. This is because most of the local wine production was intended mostly for other regions (often northern Italy, but also for other areas of Europe) where it was used as a blending wine to reinforce local wines. Now however, Apulian wine production is all about quality and has managed over time to build a well-defined awareness of its enormous potential, making room for itself in the minds of consumers. Therefore, today many are wondering which are the best Apulian wines to buy or to taste during one of your holidays in Puglia.
Apulian wines recognized among the best in the world
For some years now, the best Apulian wines have been receiving numerous national and international awards. The best known for fame is the primitive red wine of Manduria. Noteworthy above all is that of Gianfranco Fino – a well-known winemaker from Manduria – who obtained first place as the best red wine in Italy for several years. The top step of the podium was awarded to him by the most senior professionals in the sector who annually cross-reference the rankings of various specialized Italian guides such as those of Gambero Rosso, L'Espresso, Veronelli, Bibenda and also Vitae, Luca Maroni, transforming the various scores of the different guides in one vote.
Another primitive – this time from Gioia del Colle – which this year has obtained excellent results, is the one of the historic Coppi di Turi winery. We are talking about the Senatore, a wine dedicated to the founder of the cellar, former winemaker as well as a senator of the Italian Republic, Antonio Coppi. According to Wine Spectator ratings – one of the international specialized magazines in the wine sector – these 4 Apulian labels appear among the best 100 Italian wines:
Gianfranco Fino Primitivo of Manduria Es 2013;
Leone de Castris Salice Salentino Donna Lisa Reserve 2013;
Schola Sarmenti Primitivo Salento Eighteen 2012;
Tormaresca Aglianico Castel del Monte Bocca di Lupo 2012.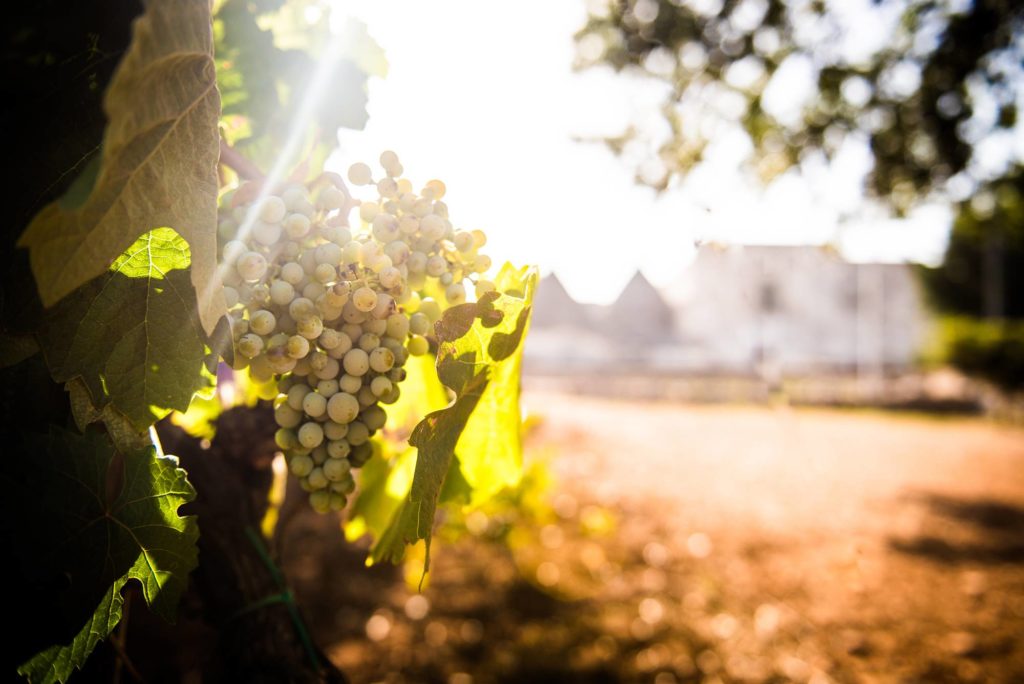 Among others, we must certainly mention the Graticciaia di Vallone and the Duna Mirante del Borgo dei Trulli. Graticciaia is a Negroamaro wine that masterfully combines the essence of its territory with a touch of elegance. It is rightfully among the best Apulian wines, thanks to its notes of small ripe dark fruits, dried violets, humus, wild fennel and black peppercorns. Duna, on the other hand, is a wine of great character and complexity but without the classic compromises of the Primitivo class. Borgo dei Trulli's Duna Mirante wine is produced from grapes harvested manually in Campomarino, with whole grape vinification in thermoregulated steel tanks for 8-10 days.
The Primitivo is a type of wine that can be appreciated in many other variations in addition to those indicated above. In fact, there are numerous cellars and wineries scattered throughout the Apulian territory that you can find especially in Salento and this selection of our food and wine tours. Each soil gives a different organoleptic connotation to the wine according to its specific characteristics. The hot climate of Salento, for example, gives it a sweeter and more full-bodied flavour than that produced in other places in Puglia. Also in Salento, you can find Negroamaro, a wine with a strong and intense taste as well.
Remaining talking about red wines but moving a little further north – within the area of the upper Salento that spread from Brindisi to the borders with the Valle d'Itria – we find Susumaniello wine instead. A name that means "donkey" because its bunches are often well loaded with grapes, just like a donkey at work! This wine has a very fruity fragrance without being too sweet on the palate.
Come to Puglia to visit the cellars and taste the native products
The red wine certainly dominate the various rankings on the best wines of Puglia but, as we have already had the opportunity to tell you in this article all recommendations to taste excellent Apulian wines, we would suggest – even if they are not awarded and less known – to taste the white wines natives of Puglia such as Verdeca and Minutolo, as well as the various blends produced by the cellars of the Murgia and the enchanting Valle d'Itria. In any case, Terrachevive advises you not to give too much importance to the rankings and to create your own personal best Apulian wine list by tasting the wines of this land directly in the places where they are produced, whether they are cellars, wineries, wine bars or splendid sun-kissed vineyards. Let yourself be guided by expert oenologists in the various Apulian locations that collect the best of local Apulian and Italian wines. Or maybe, deepen your knowledge of those wines who have already tasted in front of a typical dish, or you liked by directly visiting the cellars and vineyards where they are produced, such as this one in Castellaneta which produces natural wines or in Valle d'Itria.
We know "De gustibus non disputandum est" so contact us and we will help you build your tasting experience. In this way you can directly create a very personal ranking of the best wines of Puglia. The pleasure of the palate is guaranteed! Puglia offers many wines and fantastic places to taste them: discover them with Terrachevive.
Our beloved land of Puglia, land that lives!
Come and experience it too, we are waiting for you!