Yoga session in a vineyard
If someone asked me for advice on an experience to live in Puglia, among many others, I would certainly suggest yoga at sunset among the rows of a vineyard.
Practicing yoga in Puglia is one of the most exciting experiences, immersed in a magical atmosphere, in direct contact with nature.
But why opt for yoga on holiday when there are beautiful beaches or much more dynamic activities? There are so many reasons:
know our traditions by visiting a typical Puglia farm;
discover nature by exploring the wheat fields, the cultivated lands and the surrounding forest, rich in vegetation and fauna, inebriated from perfumes and sounds that we do not perceive in the city;
find a moment of peace and wellbeing, staying for a few hours far from the daily buzz, from the technology that overwhelms us.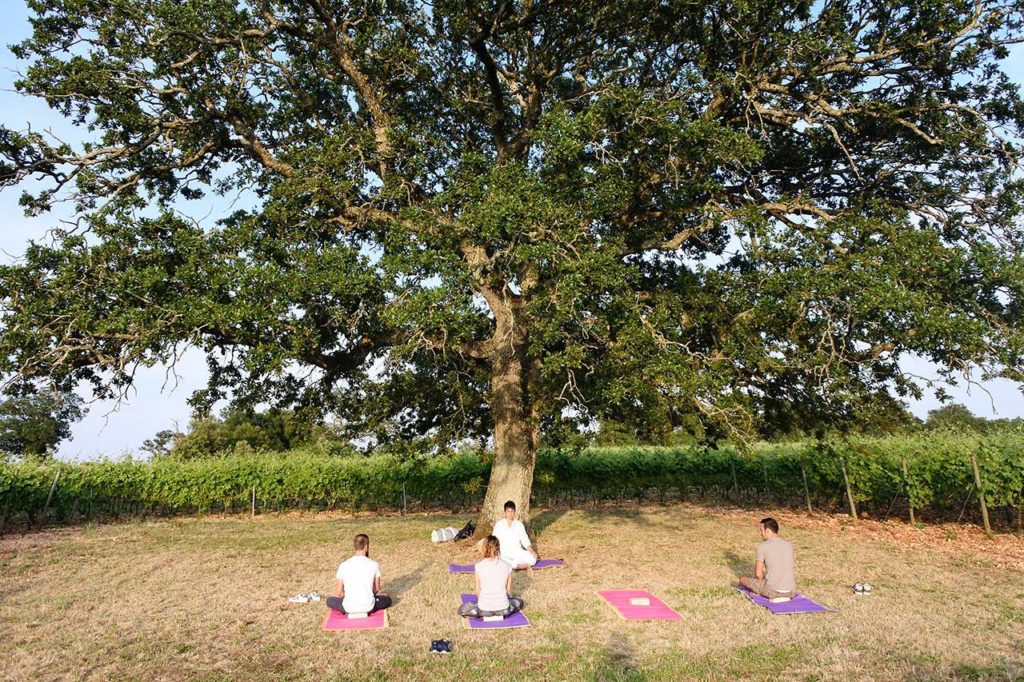 Experience of fusion between spirit and nature
We meet at the foot of a centuries-old tree of fragno, in the shade of which are lying rugs and blankets. We position ourselves and Adele La Cenere, our yoga teacher, explains the basic principles of yoga, preparing us for the yoga session. Let's start with the first relaxation, breathing, concentration exercises. The air is charged with tranquility, positivity, the mind is freed and all the senses are sharpened. As we move forward with the exercises, nature and the surrounding environment become an integral part of us.
The perceived smells, the sunset light and the wind bring peace and a sense of relaxation. Meanwhile the sun has set, we are lying on the mats and the voice of Adele tells us to get back in touch with our body. We open our eyes and the sky has changed color.
The fragno is always there, like the Masseria Croce Piccola, with its white walls, its trulli, its vineyard. For us it is easy to admire what makes our Puglia unique. But we would like to share it with you, together with our traditions, our culture, our warmth.
Our beloved land of Puglia, a land that lives!
Come and experience it too, we are waiting for you!